As discussed in our previous blog, one of the main fears that has surface from the latest provisions of the JOBs Act is potential fraud issues. We wanted to let you know that a few investor scams have already been discovered, such as Little Monster Productions' Mythic: The Story of Gods and Men. (http://www.escapistmagazine.com/news/view/117012-Mythic-Kickstarter-is-a-Scam) Thus, we wanted to make sure that we made this information available to you for further research and discussion. Here are some questions to keep mind in order to avoid future scams regarding specific projects and crowdfunding websites.
Questions to Ask Yourself:
Does the project and the goal amount make sense?
Make a habit out of reading project's features and promises. Mythic was only asking for $80,000 – regular video games cost three times that amount to produce the graphics of similar quality that they promised.
What is the company's reputation?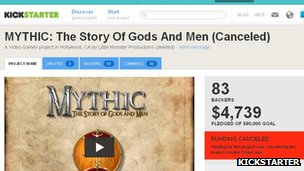 If the project is created by a legitimate company, they should have active licenses issued by the city and state. Also, it is important to research past and present employment and education history. LinkedIn, Facebook, and Google are basic places to start your search. In addition it would be worthwhile to analyze financial statements and possible litigations. If you are still skeptical, call, or e-mail the source to ask questions directly.
What do others have to say?
If people are extremely happy, or satisfied, with a crowdfunding website – there is no doubt that they will post something about it! Do not underestimate the power of social technologies. Check out online reviews and track the progress of successful projects and not so successful projects to determine the differences. In addition, it would not hurt to check the website's page ranking. You can do this by using websites such as Alexa.com, or Compete.com.
The questions above can all be answered with basic RESEARCH. Unfortunately, to gain more insight about the prevention of faulty crowdfunding websites, or duplicitous projects, people may have to make a few more mistakes.
Image acquired from http://www.bbc.co.uk/news/technology-17915305