4Q 2013 Private Equity Breakdown Report: What can we take away from the 4Q.
Last week Pitchbook released the Private Equity Breakdown Report for the 4th quarter of 2013. Before we can move on to the New Year and new quarter, we must first recap the quarter that just past. Adley Bowden, the director of research at Pitchbook, gives us his top 5 highlights from 4Q and what can then be expected in the following year.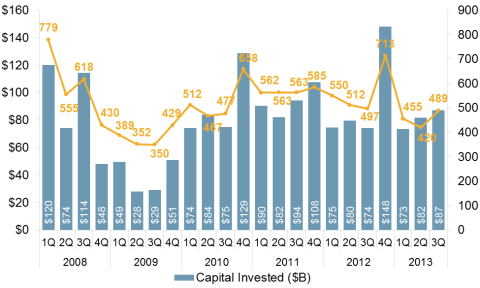 #5) Rebound in deal activity
It was predicted earlier this year that the flow of private equity would consistently improve and build though out the course of the year. Pitchbook's predictions were very accurate, the third quarter's 489 deals totaling $87 billion of invested capital set new highs for 2013. The constant flow of private equity can be explained in part by the activity of tax changes in the later end of the year.  The tax changes increased the number of deals to be moved up in the timeline and the pipeline of the deals to be cleared out more frequently. The rebuilding of timeline and deal flow will be monitored in the growth of the first quarter of 2014.
#4) Add-ons have climbed above the 50% mark.
Add-ons of buyouts have climbed above the 50% mark this year, and in 3Q they actually represented a record 55% of all total buyouts. There isn't one single factor that contributed to this event but actually many factors. Some of those factors include less competition of smaller companies, the continued evolution of private equity toward more concentration on operations and growth, and the ability to put money to work and add value to existing portfolio companies through these deals. Investing in small companies involves less risk and is a lot easier to add small companies because of that reason. This trend is not expected to slow down any time soon but it is expected to level off in the upcoming months.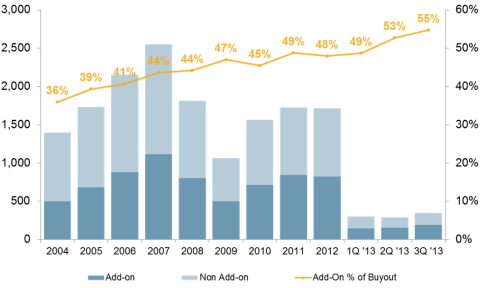 #3) Investments at the industry level are changing.
Historically industries pertaining to B2B and B2C are seeing decreases in deal activity. Industries that are seeing improvement are in the fields of IT and healthcare which are becoming big sectors for private equity investors. In the 'consumer space' there is a trend of consumer's moving away from consumer durables to consumer non-durables, including industries such as food, beverage or service instead of retail and other durables.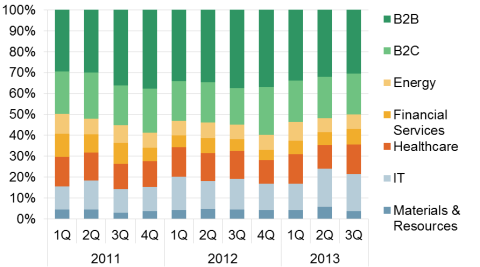 #2) Fundraising at multiyear high.
Private equity fundraising has found new life. With PE firms having already closed on $126 billion through the first three quarters of the year. Private equity investors are on track to register their best fundraising year since 2009. And we seeing indications are up across all spectrums. This is the third straight year that average fund size has increased to breach $1 million, 'time to close a fund' has dropped to 10 months and both funds at the $5 billion+ and sub$100 million levels are seeing more success than they have since the market crash.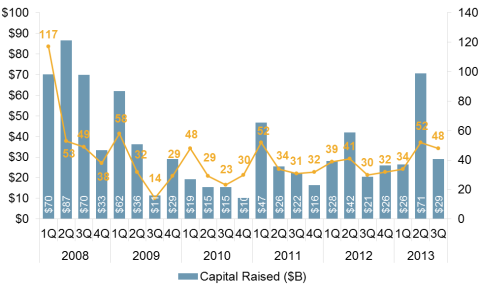 #1) 4Q 2013 outlook as a whole.
The general M&A environment is just beginning to warm up. This can be seen in a number of large transactions, such as Microsoft's acquisition of Nokia and the Verizon-Vodofone deal along with the deal involving Dell. These deals do not speak to the middle level private equity but speak for the general private equity levels. Debt continues to be very accessible for most PE deals while deal pipelines and sourcing continues to normalize.. A large number of aging portfolio companies are expected to increase fundraising also. More fundraising, more deals.
2013 looks to be one of the best fundraising years since 2007. More money is looking to come back. The growing trend looks to continue to a strong start for 2014. Businesses are hoping that 2014 will be better than the beginning of 2013 since 2013 was largely affected by the ending result of 2012. For more information, consult Pitchbook's 4Q Private Equity Breakdown report which is free on the Pitchbook main website.