Richard Branson founded Virgin in 1970 and it's been growing ever since. When he first
started Virgin he was only 20 years old and founded Virgin Record labels.
Richard Branson wasn't an honor student in high school and ended up dropping of Stowe School at age 16.  Surprisingly even though he dropped out of high school he still received a PHD from Lonughborough University, England with a Doctor of Technology.
Today Richard Branson has eight separate billion dollar companies in eight different industries. This is no feat to be taken lightly because most people would dream of only having one billion dollar company.
I'm going to go over some important points that were made from Richard Branson book: Like a Virgin.
1. Define your brand- This is an essential step when placing your business into the marketplace. You need to find that market you are trying to break into.
You are also probably wondering how Richard Branson is able to have this brand if he owns 8, billion dollars companies in different industries. His branding is helping people find new ways to help other people have a good time. This business structure can be applied to many industries.
2. Don't do it if you don't enjoy it- Richard Branson says that running a company is no easy task and takes a lot of hard work. You need to love the business you are trying to open and be very passionate about it to excel. "For me, building a business is all about doing something to be proud of, bringing talented people together and creating something that's going to make a real difference to other people's lives".
3. You can't run a business without taking risks- Branson stresses this. He belives that without risks in your business you cannot excel in your industry. High risks are just one of the many feats to be conquered when starting your own business, which is why most people are not entrepreneurs. Branson says " The brave may not live forever-but the cautious do not live at all." This is a statement that remains true because if you are not a risk taker your business is sure to fail.
4. The first impression is everything. So is the second-When business men tell you
 this, they usually stop before the second impression part… but this could be detrimental to your business. What Branson is saying is your first impression is how the customer views you from the start but the second is just as important because the second is usually because they are having problems with the product or service.  So what Branson is trying to convey is how you handle this second contact will be how to present yourself and the brand to your customer as well.
5. Beware the "us vs. them" environment-  Following my last blog on leadership skills with Abraham Lincoln, Branson also feels this is an important aspect to be a great communicator to your employees. When companies and management use the word "we" employees feel more associated to the company instead of using us and them. It ties the company together and makes them feel at home, since by human nature we are striving for acceptance and normality whether you know it or not. Branson advises to first check your middle management as this could be your weak point of communication and make people feel connected with the company.
6. Seek a second opinion. Seek a third- Richard Branson really tries to advocate good listening skills when starting your company.  You need to hear what others have to say about your business and make changes according to that. Branson says you don't necessarily have to take their advice but listening is a valuable skill that will set your business apart if you can utilize the right information.
7. Be a leader, not a boss-" Being bossy is not a desirable trait in a manager" Branson says. A boss orders while a leader organizes. This is something that many employees have grown to love about Richard Branson's businesses. A leader should give employees a structure and the available resources to be able to work autonomously and create a great product or service.
These are three of our favorite Virgin companies that you might not know about. The branding of Virgin Group is to merely help people live easier. Richard Branson charismatic nature and leadership style has made him a successful business leader.
Virgin Galactic- Richard Branson created the world's first space line. It gives the opportunity for non-professional astronauts an experience in space. These spacecraft will be privately built and be modeled on the history-making SpaceShipOne. These spacecraft allow affordable sub-orbital space tourism for the first time in history.
Virgin Atlantic Airways- Offers 30 destinations worldwide including: Australia, the Caribbean, USA and Africa. Branson wanted to offer unrivaled service in each one of his cabin choices.
Economy-Seats are relaxed and designed to maximize legroom. Each seat has its own seatback TV for latest in-flight entertainment  In addition to this you get a free amenity kit. This amenities kit includes a pair of flight socks, ear plugs, pen, eye shades notepad, toothbrush,tissues, and lip balm.Main meals and also drinks are served during this flight.
Premium Economy- Offers dedicated check in service  priority boarding, bigger leather seats with additional legroom that recline and a footstool.
Upper Class-Private security channel and private Clubhouse can be used prior to boarding. Includes a complimentary spa, salon and brasserie. On board there is a bar and also one of the longest full size beds in it's class.
Virgin Vacation- The Virgin name still strives for offering more amenities for a better value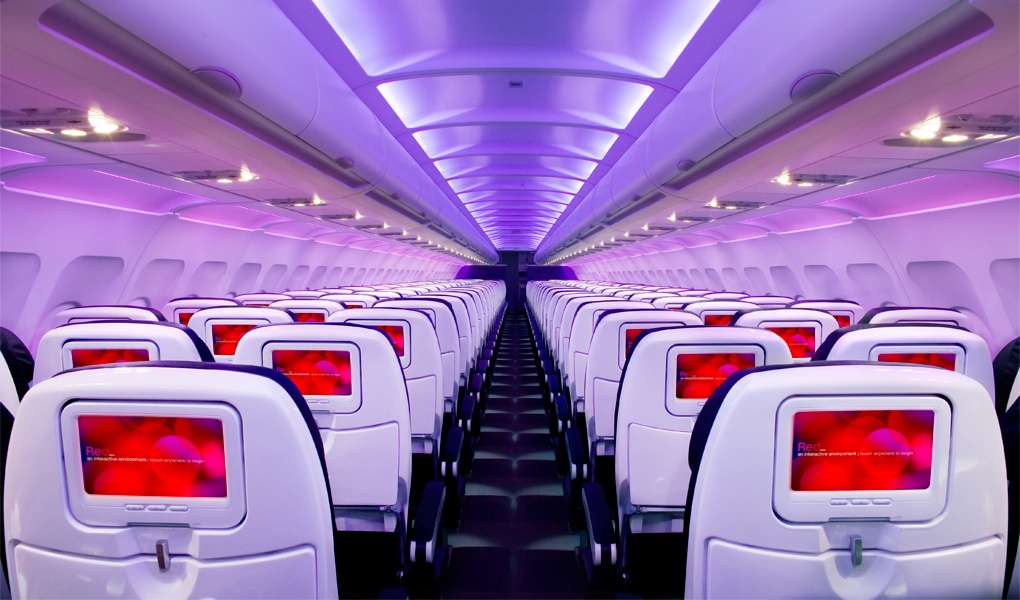 and Virgin Vacations is no exception. Virgin Vacations was established in 1994 to provide Virgin Atlantic Airways customers inclusive vacation packages to London and beyond.  These now include travel through Europe, Asia, the South Pacific and South America.