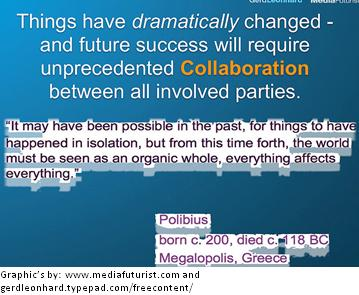 Brian Solis, principal of Altimeter Group and an expert on new media and its effects on business and culture, recently dubbed the new era of customer relations as the "Egosystem." "In a coauthored post on the CRM Software Advice site titled "Managing the Egosystem: 6 Rules of Engagement," he says, "The Egosystem describes this new environment where people see themselves as the center of everything. Every interaction, with people and businesses alike, revolves around them. That kind of changes the dynamics and balance of the relationship."
Social media has enabled consumers to assume a more active role in their relationships with companies, making their voices and influence over consumer products and trends louder than ever. In Liminal: The 2011 Razorfish Customer Engagement Report, Razorfish names six rules of engagement: value, efficiency, trust, consistency, relevancy and control. They define the way in which businesses must now engage with customers through the many difference social media channels in the era of the Egosystem.
But what does this mean for CRM?
CRM software is used to manage customer and/or client relationships. It is an application that allows people to store and track information about specific people, so they can apply that information in the future in order to enhance relationships and business.
It evolved over time from a one-way street, where companies used it to track information on customers, which they used to their advantage, to a two-way street, with companies providing specific incentives for customers based on that information. Now, it is evolving once again. And though CRM still fosters two-way communication, it's the customer who has most of the power.
Knowing this and knowing the six rules of engagement, however, allows us to utilize the tools we have in order to achieve the most effective customer management strategy. Below is an abridged version of Lauren Carlson (CRM Analyst, Software Advice) and Solis's explanation of each of the 6 rules, with comments on how you can integrate them into your CRM strategy.
"Value: In the Egosystem, the customer identifies their needs as the most important. They want the company or brand to share that sentiment. This is most effectively accomplished by maintaining a personal touch with consumers."
CRM software is designed to manage and track client and customer interactions. Keep detailed records of these interactions and use them in the future to provide an experience tailor-made for the customer at hand. It shows them they're not just another nameless customer.
"Efficiency: Thanks to an increasingly mobile and social world, consumers are used to having technology that allows them to often expedite traditionally long, laborious processes. They want to be able to access Twitter, Facebook or a live chat module for real-time support. Offering these channels shows the customer that you respect their time and energy."
If you're using a CRM correctly, it will have all the information you need to assess how and how frequently you're communicating with any given customer. This lets you prioritize appropriately and communicate efficiently.
"Trust: Consumers need to be confident in the credibility of businesses. They want to know that a company will stand by the product, actions and services that they deliver. If a company builds trust through honesty and transparency, their customers will feel more confident to recommend the company or brand to others."
Your CRM can't really help you on this one – just be honest and transparent with your customers! It's that simple. Posting daily – and honestly – on Facebook and Twitter (whatever social media site works for you!) from a personal voice in the company will help you gain your customers' trust.
"Consistency: For the sake of this conversation, we will focus specifically on channels. Offering multiple channels is good, but there is no value unless the service you provide is consistent across each one. It is more valuable to have three consistent channels as opposed to eight fickle ones."
Use your CRM in order to track where your customers are talking. If they're mostly engaged on Twitter, don't focus all of your efforts into LinkedIn or Facebook. CRM's can aggregate web content from social media sites; use that information in order to determine your social media strategy. Then, become an expert social networker in the space deemed as your best fit.
"Relevancy: When potential and existing customers visit your blog, Twitter, and Facebook page, they want to find information that is interesting and focused on their needs. Companies should be listening across all their channels, identifying the common struggles, concerns and preferences of their customers. Equipped with this knowledge, companies can provide more targeted communication that is actually relevant to their customers."
Similar to how CRM use is described above, scrubbing content from these sites and finding out what your customers are talking about that's related to your industry is the perfect way to engage with them. For example, if you sell smoothies, post relevant articles about the latest health craze, or the best fruits to eat during specific seasons. This also provides value to your customers.
"Control: It is clear that customers want a sense of control in that they want to choose the channel they communicate on, and they want the ability to opt in and out of specific engagements. In other words, they want an experience that gives them the sense of control. It is the onus of the business to actually control that experience. Businesses should gain consumer insight and design an experience that provides the user that sense of control."
A CRM, with it's aggregated social media content, can help you determine how to use information in order to provide your audience with that sense of control they need in the era of the Egosystem. Post questions, provide polls and engage with them in a way that tells them you are not only listening, but need their input in order to deliver better services for them.