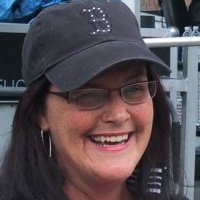 If you've been keeping up with the Touch Ahead employee bios, it may not come as a surprise to you that our Marketing Director Cathie Briggette has the ability to look at a computer and instantly get how it works (it's a common theme amongst our employees). What's different about Cathie is that, while most of our employees speak a number of coding languages, she has the ability to understand "tech" and "human-speak," as she calls it, and has been translating Touch Ahead Software and NSK Inc initiatives into effective marketing campaigns for the past 15 years.
While computer technology has always come naturally to Cathie, she's been educated and certified in a multitude of industries, including IT, marketing and business, and political science – but all of her real education has taken place on the job, as she considers herself more of a hands-on learner. When she first started working at NSK, she would actually learn the new, emerging software as it was released (including technology like Microsoft Office Suite), then train clients on how to use it. She was (and is) MOUS certified – Microsoft Office User Specialist. Before coming to NSK, Cathie worked for businesses including Boston Edison (now Entergy), Pelikan© a high-end pen company and Objects 9000, a German software company.
"I love all the different technologies and learning about them; the whole process of things changing from one concept to another," Cathie said. "When I started working, there were no cell phones, no email. I had a floppy disk Wang computer at Boston Edison and I used to develop macros for their word program – I had no formal schooling at that point. I could just look at a computer and figure out how it worked."
At the German software management company she worked for, Cathie assisted in opening and incorporating five companies in the US. After a campaign to create bug-less software – a feat anyone in software development will tell you is virtually impossible – never quite took off, the company closed down operations in the US. Which is exactly what brought Cathie to NSK Inc at its inception in 1996, and to Touch Ahead in 2008.
Starting out as an IT associate at NSK and transitioning to Marketing Director for both companies has been a great experience for Cathie. She's the kind of person who never lets an opportunity to learn pass by and takes a keen interest in watching the evolution of an industry. As for marketing, she said:
"When I started out, there were few venues that you could market in – tradeshows, newspaper, radio and television – that was it. Now there are so many different venues, and it's nice because you can get into inbound marketing and sell yourself through your own web pages. I love trying all the different ways you can market your company and watching it go from one point to another. Now you can measure the results – that's so amazing to me. It's like making a cake and making it better and better all the time – and who doesn't like cake."
On her off-time, Cathie, a mother of three, enjoys taking long, scenic drives with her husband, especially during the autumn when all of the leaves are changing colors. "We went out to Las Vegas and drove to Arizona to the Grand Canyon, because we wanted to see what Route 66 was like," said Cathie. "It was one of the most amazing things I have ever seen – it was after Route 66 had kind of been thrown off to the side and the main highway came through. The two of us rented a convertible and drove all of Route 66 right to the Grand Canyon; grand does not even begin to describe it. It looks like a fake Hollywood backdrop."
Cathie also avidly follows politics – she is the type who really tries to get to the bottom of the discussion and needs to hear both sides of the story to form her own opinion. Where most people (or was that just me?) dreaded learning about the constitution, she absolutely loved it, and, if asked what she was going to be when she grew up, her response would have been something in law and politics. An aspiration she still has today, Cathie says she hopes to get involved in politics as a lobbyist for the people one day.
Sticking to the present, Cathie also has big ambitions for NSK and Touch Ahead: "I would love to see Touch Ahead make it big and NSK grow to be a huge, great company." For someone who takes great joy in watching change happen, it's going to be quite a journey.