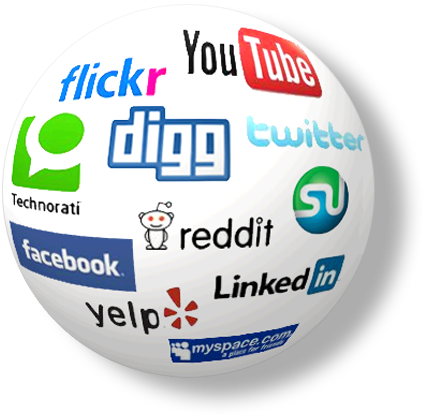 Ever since the birth of Facebook and other social networks, people have been flocking to online social media networks at a alarming pace. By now it is old news that more and more companies seem to realize the strength of social media and like everything else these days, customer relationship management (CRM) processes and systems have undergone a vast amount of change, in their pursuit to go social too. As the next generation for CRM, "Social CRM" is gaining momentum which is moving much faster than previous CRM evolutions did during the 1990s or the more recent emergence of the web.
In essence, Social CRM involves using social media tools, technology and techniques in order to enhance and optimize customer relationship.  It is an evolutionary step towards customer centricity; it is part strategy, part philosophy, part process, supported by an Enterprise 2.0 platform technology to combine social media and CRM in order to better connect with and serve customers.
According to Louis Columbus, CRM analyst, "The best CRM systems if implemented well can take a business into entirely new markets while solidifying leadership in existing ones and by adding in the ease-to-use nature of social networks, the potential value of CRM  accelerates even faster". With the recent explosion in social media usage, these large number of access points have given customers a platform to obtain information, express and disseminate their opinions, both positive and negative, to the entire community. The sales world is already tapping into the social media landscape to gain insight into consumer interests, prospective clients and building relationships with customers.  Social CRM is a response to the rapid upheavals created by social media.  Social CRM processes have made their way into the heart of how companies organize their internal departments to improve their operations (Customer Services, Marketing, Sales, Communications, IT, HR etc.) as Social CRM project has more chance of being successful if it is multi-disciplinary and integrated between different functional departments across the company. For instance, the HR department of a company implements Social CRM technology to benefit from a tool set designed to empower recruiters to find, attract and engage the talent they need, when they need it, based on the social profile of candidates.
Furthermore, the new approach to CRM has changed the rules of the game – Companies are facing a qualitative leap in customer information via social media tools, software and analytics.  Companies are now able to collect and exploit a wealth of contextualized information, yielding new discoveries and lessons about customer's expectations.  It is giving them a new way to manage relationships for better value for both the customers and the organization. According to the Founder and Principal Bloom Thinker of Bloom Think, a Social Business strategy agency, Billy Cripe, "Good Social CRM demonstrates how engagement with customers can turn a complaint into an advantage and a disenchanted customer into an advocate".  In a 21st century digital business landscape, Social CRM might be a reality today but it is an imperative for tomorrow.
The following table shows how Social CRM process differs from Traditional CRM, published on ZDNet website by Dion Hinchcliffe, an IT and business strategy expert.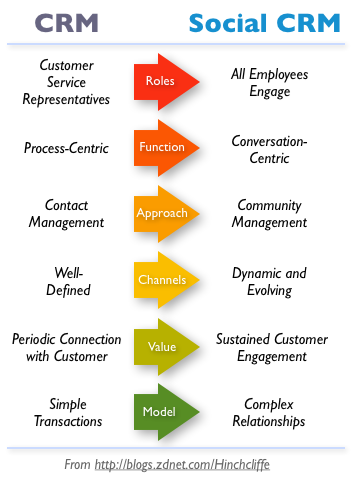 This table signifies that Social CRM rests on four pillars – Engagement, Conversation, Participation and Content distribution. In the end, as mentioned on Bloomberg Business Week by Steve McKee, "Social CRM has added a whole new dimension to the term: CRM". He further goes on to say that the problem with traditional CRM is that it focuses too much on acquiring and leveraging information whereas customer relationships aren't built on information but on trust. And Social CRM recognizes this by fostering an environment of trust through collaborative experiences and dialogue that customers value.