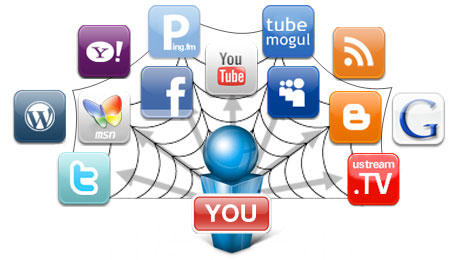 A common consensus among some financial services (private equity and venture capital companies) professionals is that it is not necessary for their firms to become involved in social media. Maybe this was the case a few years ago; however, more and more Venture Capital and Private Equity companies are hopping aboard the social media express. According to HubSpot's 2011 Report, Financial Services Firms acquired clients through LinkedIn, Blogs, Twitter, and Facebook. Specifically, financial services professionals have gained 61% of clients through LinkedIn, 47% through blogs, 40% through Twitter, and 35% through Facebook. Sure, there are many reasons to not become a player in the social media games, such as industry compliance rules, creating and maintaining appropriate secure content, fear of wasting time and money, and ROI, but overall the benefits of social media outweigh the risks. Refusal to adapt could result in failure for your firm.
Having a set policy in place will assure a secure, foolproof journey into the world of social media. David Teten, a partner with ff Venture Capital and Founder and Chairman of Harvard Business School Alumni Angels of Greater New York, answers how a Private Equity Fund can use social media for building investment pipeline and raising capital in his article: "How a private Equity Fund Uses Social Media for Building Its Investment Pipeline and Raising Capital". David says that social media is a very cost-effective way to strengthen a firm's corporate relationships if you have a solid strategy.
The best way to avoid wasting time and continue to maintain security is to create and implement a social media policy. The policy should define the company's roles and responsibilities, as well as other simple, yet effective guidelines. Also, the policy should outline a clear, concise marketing strategy. Ask yourself these questions:
What are you trying to achieve? Are you trying to create more website traffic? Establish better relationships with clients? Develop a wider clientele?
What are you concrete goals? Having a thousand monthly visitors? Overall increase in commutation with prospects through social networks? A certain number of prospects to become clients per month?
What social media mediums will you use? LinkedIn? Facebook? Twitter? Pinterest? Blogs? E-mail lists?
How will you track this progress? HubSpot? Google Analytics?
In the chart below, Navon Partners demonstrates how "social media is pertinent throughout the private equity investing cycle". Navon Partners makes a valid point when they stated, "Most important, today's Twitterers and Facebook users are tomorrow's senior executives. Your competitors are already educating themselves about these technologies; are you?"
Investing Cycle
How Social Media is an Accelerator
Raise capital
Identify value-added potential investors, including past investors in comparable funds
Find common connections who can introduce you to potential investors
Originate investments
Identify and reach out to relevant people & companies
Make yourself into a magnet for pertinent investment opportunities
Due diligence
Review professional and personal lives of management
Talk with firm's network: customers, competitors, suppliers
Negotiate deal
Gain insight into counterparty's negotiating style and motivations
Improve operations
Recruit performers who are more readily searchable than ever before
Accelerate sales and marketing
Exit investment
Identify strategic acquirers