As a venture capitalist, you invest in the future. The deals that you make can't be unmade, and those that you don't might be huge successes under the guise of a competitor. Hindsight is the only way we can see clearly, and VCs must rely on their vision of the future to succeed.
But what does the future look like? Answering that question takes a lot of inferring in the trends of the world today. As the environment grows more and more threatened, green startups appear as great investments. Solar-powered, recycle-enabled electronics are budding in the market and crowd-funding sites alike. Startups that disrupt the market with insignificant prices are also a good shot, as they cater to the global recession and the masses affected by it (plus, who doesn't love a good deal?). And because history tends to repeat itself, new social networks with potential are equally good bets.
Of course there are other successes, but we're here to focus on the one, still relatively small market that combines all three of those ideas. That powerhouse is called collaborative consumption (also known as "the sharing economy"), and it's growing in value by the day.
For those of you who aren't familiar with the concept, collaborative consumption covers a wide range of companies, all of which utilize the idling time of the things we own. These companies take things that we don't use all the time, and through social media allow us to become micro-entrepreneurs and rent them out to other people. The products are limitless: from cars to spare bedrooms to clothes and even power tools, this digital sharing space is varied and growing. Users of the sites make a profit, the sites themselves make a cut, and those who take advantage of the products often save money while making personal connections in a social marketplace. In short, everyone involved benefits.
Before collaborative consumption went digital, the marketplace was mainly dominated by real-life transactions from peer to peer with no common space for all micro-entrepreneurs to gather. Even then it was estimated to be a $1 trillion dollar global industry, and since the introduction of collaborative consumption companies that number has only grown. You might recognize some of the bigger names in this market: airbnb, for example, is a travel rental company that operates in 192 countries with over 10 million nights rented since its founding in 2008. Through airbnb's website, homeowners can rent their couch, bedroom, or vacation home out to people for temporary stays. This year it's angling towards $1 billion a year in revenues. It owes its success in part to the global recession of 2009, as it enabled the unemployed and underemployed to make a supplemental income. As is the trend with CC companies—when times are tough, alternative ways to making a living gain heat amongst those who would normally forgo them.
In a way, collaborative consumption isn't a new idea. Just a century ago, bartering was seen as a common way to transfer goods. Someone could offer manual labor and in turn have a place to stay for the night. The twentieth century, though, was a century of consumption. What we bought was ours' and only ours'—it was a sign of wealth to keep buying newer things whenever they came out. Because of a combination of three key factors in the twenty-first century, however, we're facing resurgence in the forgotten tradition of collaboration.
The first seems obvious—more and more people these days don't have enough money and are either unemployed or underemployed. Eighty percent of college graduates, for example, have jobs that don't require a college degree. Those people need another way to make and save money, so they turn to alternatives such as TaskRabbit and DogVacay, two companies which connect people with free time with those who have none.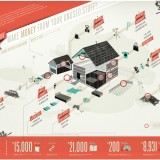 The second factor leading to the popularity of collaborative consumption is resurgence in community fed through network technologies. Because of sites like Facebook and Twitter, people feel more connected to people they don't know very well. With that connection a sense of trust is born that was shunned in the era of hyper-consumption. That sense of trust makes it easier for people to give things like their homes or cars to strangers for rent (although all good CC companies include layers of intense insurance, which is vital for their success and for your investment).
Lastly, collaborative consumption might be the best thing for the environment out there. It might not be creating solar-powered cars but what it does do is drastically decrease a need for the production of goods. The resources that go into building those solar powered cars and the energy that goes into disposing of gas-powered vehicles hurt the environment more than halting production and using what we have. Beyond just car-sharing services, office-sharing programs eliminate the need for increased construction (the office buildings we have today could house significantly more than every business currently operating, yet new ones are put up every day). Along with that, appliance-sharing and clothing-sharing programs eliminate the need for production of even the smaller things in life.
Collaborative consumption has been called the "cloud computing of real goods", which we and any prospective investor can surely get behind. It eliminates production costs, disrupts price, and takes social networking connections to the real world. If trends continue as they have, it very well may be the future we're looking for.