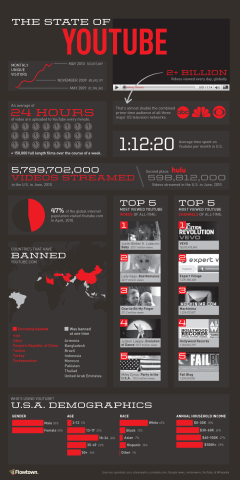 Venture capitalists invest in creation. Entrepreneurs invest themselves in their creativity, because a creative project is the only type that will ever succeed. Original ideas, imagination—these things make a product sell. But that product, whether you're a venture capitalist or an entrepreneur, is just an item. It may be creative, but it is not creativity.
It is possible, however, to invest in creativity itself. Not a creative product, not even creative software: just original, constant creation. This practice has been around for centuries, from the times when philosophers and painters were sponsored by intellectuals looking to see their work. In modern times that idea has been revitalized for the digital age (and yes, it's also become very profitable).
I'll lay out for you one huge, growing industry that is gaining popularity every minute: Internet TV. And before you think of it as a combination of Netflix and home videos of puppies, listen up. The television industry grosses $36 billion dollars annually, and it is being constantly disrupted by online production. Why?
The cost of cameras and editing equipment required for capturing, processing, and distributing video on television networks is mind-blowing. But when you move that to the Internet, the cost drops drastically with no impact on the quality of the work. Though many network shows cost up to $100,000 per minute to produce, online networks cost $500 per minute at most. Cameras that shoot cinema-quality definition are now available for as little as $400. And hey, you can film something like this with an iPhone 4: http://vimeo.com/31013938#at=0
There is absolutely nothing preventing highly aesthetic and creative content from appearing directly online. Audiences aren't opposed to it (86% of all Internet consumers in the US now watch online videos)—and for good reason. The omnipresence of high-speed Wi-Fi makes this the most accessible form of video streaming yet.
The Internet is necessary for the modern world—television, with its high cost, is not. It's cheaper for the consumer to keep up with online programming.
Though Hollywood's creative talent used to rake in high-figure salaries just to be available, this is no longer the case. There is saturation in the talent market, and the writers/directors/actors who haven't made a name for themselves yet are suffering.
Television channels are to video what albums are to music, and we all know how that story ends. People love shows but rarely (if ever) watch every show on a single channel. Yet the 91% of all US households that pay for television bundles are wasting money for that ability. As online video becomes a better investment for consumers, it makes perfect sense that it should become one for venture capitalists everywhere.
So a $36-billion-dollar a year industry is being disrupted by the Internet (again). The ways that you already contribute to the system, be it through Hulu or a subscription to Rihanna's VEVO, are just the tip of the iceberg. The OCF files before MP3s. There is real, original content out there, and venture capitalists are investing in the sources that make it happen. Justin.tv, a startup that offers a live-stream video platform for users to create and share videos, just raised $8.3 million of an intended $20 million funding round. Video ad network YuMe just went public with a $65 million IPO. And Maker Studios, a YouTube channel that specializes in high-quality productions, received $44 million in venture funding in 2012.
One of the great things about online streaming's progress is how it provides an outlet for creative people to be their own entrepreneurs. Average people like Michelle Phan and Ryan Higa have created empires on YouTube with nothing more than a webcam and a unique spirit. As they progress so will channels with amazingly high production value, like Machinima or the star-studded WIGS. No matter the program, one thing is clear: whether you're an entrepreneur or an investor, it's time to watch some shorts.