According to data released by PitchBook, private equity (PE) fundraising continues to rise from once crisis stricken levels. The primary focus has now shifted to an unlikely source; small Private Equity funds. The third quarter (3Q) of U.S. private equity fundraising in 2013 has shown comparable differences from 2012's 3Q, the difference being 46 PE funds in 2013 compared to 29 PE funds from last year.
Despite the large increase in the fund count, the total capital raised shows a shift in the structure of the 3Q compared to last year. The actual capital raised in 2013 3Q is only a slight increase than that of 2012 3Q, a difference of only $20 billion. The reason for the lack of capital raised and a heavy increase in funds closed, is due to the average size of the funds, which was dramatically down in 3Q of this year from the same quarter  last year. The average slipped from $714.6 million to $500 million.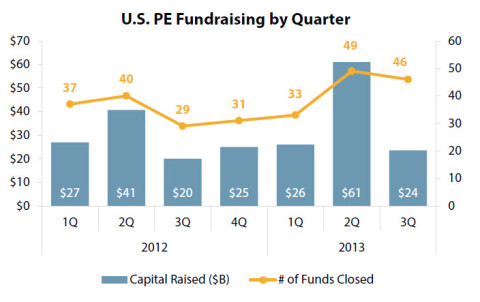 The reason for the lower average is due in part by the lack of mega-funds ($5 billion+) closing in Q3. Mega funds accounted for more than 50% of total capital raised in the first half of 2013.  The median fund size has also decreased significantly in the third quarter. Down to $255 million from $391 million in the same quarter the previous year. So not only are large PE funds closings dropping but there is also  a decrease in the lower end as well, 33 funds at $500 million or less closed in 3Q 2013, compared to only 17 in 3Q 2012. It is evident that the PE fundraising landscape is shifting toward smaller funds.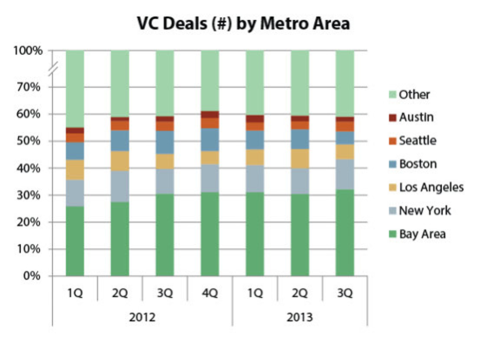 PitchBook has also provided the number of venture capital deals by metro area. The top U.S. cities that are performing well in the 3rd quarter are Austin, Seattle, Boston, Los Angeles, New York, and the top city for venture capital is the San Francisco Bay area. San Francisco and Silicon Valley combined attracted $3.1 billion across 275 venture rounds in the third-quarter.  This was good enough to make up 32% of the 854 U.S. –based third-quarter rounds and 43% of the $7.32 billion in funding. New York City came in second with startups receiving venture capital financing to comprise 11.1% of venture capital deals in the third quarter. Los Angeles, Boston and Seattle rounded out the top five with 5.5%, 4.8% and 3.6%, respectively.
Pitchbook also found that venture capitalists invested $7.3 billion in 854 deals during the third quarter. The same amount of money as the third quarter of last year but a decline in deals from 1,016. John Cook, a writer from GeekWire.com, conveyed that beyond an initial amount invested naturally helps companies progress but having "smart people, a strong infrastructure and a culture attuned to entrepreneurship also helps."