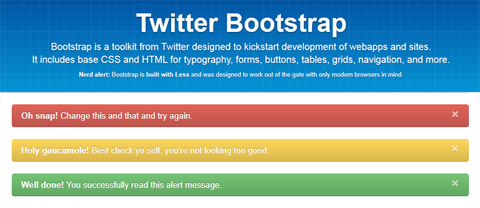 Have you ever wondered what happens behind the scenes of a web page or web application when you click a button, sort a table, or navigate from one page to another? Have you ever looked behind the scenes and read the code to render a web page? Someone who is not a developer would think that they were reading a foreign language. Even the developers who can write and translate the code sometimes feel that way, because there are so many different types of languages that can and are being used to create websites and web applications.
Which is why everyone here at EquityTouch® is SO excited about Bootstrap from Twitter.
Bootstrap from Twitter is a Framework. It was created as a toolkit to help scale and maintain individual web languages. "At its core, Bootstrap is just CSS, but it's built with 'Less', which is a flexible pre-processor that offers much more power and flexibility than regular CSS". And it is Open Source! Any web developer can use it to rapidly develop web applications. Bootstrap uses some of the latest browser techniques to provide designers and viewers alike, with stylish typography, buttons, tables, navigation, and much, much more.
In the early stages of Twitter, engineers used any web language library they were familiar with in order to create its front-end. However, there were many inconsistencies with the individual applications, and making it extremely difficult to scale and maintain all the libraries. Bootstrap became the answer to such challenges and began to arise during Twitter's first testing week, known as "Hackweek". By the end of the testing week, Twitter's Bootstrap had accelerated to the point where a stable version of the web language library had been reached that engineers could use across the company.
With the help and feedback of engineers, Bootstrap has improved significantly. It includes basic and elegant styles and design patterns that developers can use in creating web pages and web applications. Bootstrap is extremely easy to implement; just drop in your code and go. It works by providing a uniform solution to the most common everyday tasks that developers come across.
Although Bootstrap is extensive, meaning that there are many options to choose from, it is flexible to work with for many unique designs. It is a very simple way to promote quick, clean and highly usable applications. Bootstrap is one of the most complete front-end toolkits out there with dozens of fully functional components ready to be put to use.
The developers here at Touch Ahead are excited because:
uses "Less", which is faster
supports mobile devices
organizes all the front end framework
organizes all the languages we use to create EquityTouch
AND Like Twitter, "we love building awesome products on the web."
Image taken from: http://www.webresourcesdepot.com/twitter-bootstrap-a-css-toolkit-by-twitter/