EquityTouch The Deal Sourcing Collaboration CRM
For an EquityTouch demonstration, click on the button above and fill out the following form. Or contact us by any means listed on the Contact page.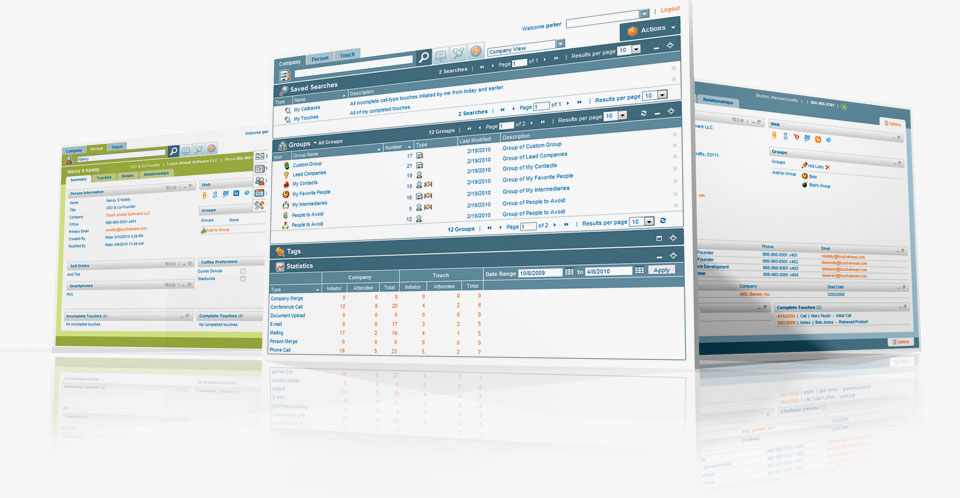 EquityTouch is a super fast, easy to use CRM solution for the alternative asset community. It is a web-based application, making it accessible from anywhere, and is completely secure.
EquityTouch is the first SaaS based, cutting edge CRM solution for the alternative asset community. EquityTouch makes it possible for you to manage business relationships intelligently. It gives your organization an effortless way to exchange contacts and recommendations and ensures this information is not lost after the discussion or meeting ends. It delivers the most relevant features in a completely customizable interface.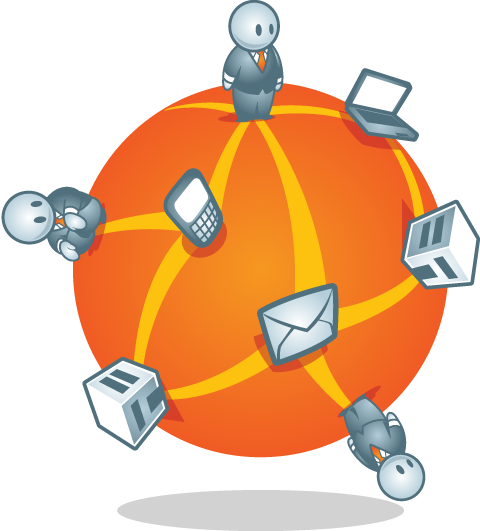 The flexible custom interface allows for an organization to pick and choose the information they want to track, for example financials, goals, business description, anniversaries, birthdays, spouse and/or children names. Anything that is important. The best part is it doesn't clutter the application with items you don't want; you only track the information you want. EquityTouch also keeps detailed relationship information on individuals like board memberships and/or company affiliations. The application offers numerous other benefits including CrunchBase, LinkedIn, Facebook, Twitter and Google Integrations that are automatically accessible within the EquityTouch application.
EquityTouch uses the "Touch" concept to help organize the information flow of an organization.
A Touch is any type of activity associated to your day to day process. EquityTouch enables groups to collaborate and track Touches like events, emails, calls, meetings, web correspondence, referrals, research, etc. Touches not only capture activity, but also build connections between several people and companies. Only one Touch needs to be created but the Touch relates to all companies and persons involved. This helps eliminate data duplication for the end user.
You can quickly and easily search these Touches to get pertinent information again and again.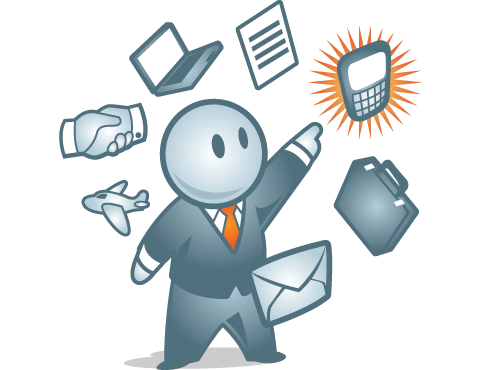 EquityTouch Advantages
EquityTouch enables deal-making success seven ways:
Clearly visible relationships and communications
Buried among potentially thousands of Touches are the ones relevant to a given situation. EquityTouch lets you find them easily based on your personally selected criteria. Even if someone leaves a company and moves on to another, their information and touches move with them.
Minimal data entry
No one likes entering data. EquityTouch lets you avoid most data entry altogether thanks to tight integration with other tools where the data already exists — such as email, calendaring, social networking sites, and commercial databases (e.g., CrunchBase & Dow Jones). Simply tell EquityTouch which companies you are interested in and EquityTouch imports the company and people information for you. EquityTouch also lets you designate another person such as an assistant to use the system in your place, so they can enter or update data for you.
Mobile
Mobile CRM is no longer an option but an imperative for both small to mid-size and large businesses. EquityTouch Mobile is a ready-to-run mobile web application that provides secure, reliable, up-to-date information directly in the palm of your workforce. With EquityTouch Mobile, we are empowering on-the-go clients with the ability to access and update data anywhere, anytime with the click of a "Touch".
Extensive training and support
It's not just a question of using the commands correctly. We'll show you how to get the most from EquityTouch. You'll be up and running quickly. Your solution will be optimized. And so will your deal making practices!
Superfast performance
Users have little patience for slow software or screens that take too long to refresh. EquityTouch is built for speed with advanced web technologies that allow for maximum performance from our advanced servers.
Zero maintenance
Organizations resist adding yet another application to deploy and support across data centers and desktops. EquityTouch is a web service hosted by Touch Ahead. We keep the solution always up-to-date and maintained so you don't have to.
Customizable intuitive views
Investment professionals want to see data presented on their screens their way. EquityTouch offers a clean, uncluttered interface that each user can tailor based on personal preferences — but without affecting how the underlying data is stored. They can add or remove fields from the screen as well as change a field's screen location. In addition, administrators have the ability to delete custom fields from the database and also create custom fields, and define how those fields may be presented onscreen (for example, as text or currency). Custom fields are immediately searchable as soon as they are created.
Superior Fast Searching
Advanced Searching Including Custom Fields
Search for companies or contacts using many different criteria.
"Look Ahead" Searching
Find the company or contact you are looking for before you finish typing the keywords.
"Distance From" Searching
Say you plan to meet one of your contacts located in Boston, MA, and decide you want to visit all contacts in that area in one trip to save time. You could search for all your contacts that work within a certain radius of Boston, while applying other criteria to the search.
Saved Searches - Sharable
Save your search results for later, and/or share them with others.
Share Groups and Save Searches
Create groups and place relevant companies or contacts within them. For instance, you can keep a group of "Hot List" companies that you are following or a group of "Key People" to network with.
Intelligent Relationship Management
EquityTouch lets you see all connections between companies and people. You can include everyone involved in a specific Touch such as team members, intermediaries and employees of portfolio companies (potential and current). You get the complete picture without creating redundant Touches, saving time and avoiding data entry.
Integrated with Microsoft Outlook Exchange
Email, calendars, and contacts created in one application — EquityTouch or Outlook — can be quickly and securely transferred to the other. This saves time, avoids redundancy, reduces data entry and eliminates potential errors.
Mobile Access

EquityTouch's robust Mobile interface is optimized to work with Apple, Android, Blackberry and Windows phones and tablets. EquityTouch Mobile offers a clean, uncluttered interface that is easy and simple to understand and navigate through.
Financials
Customizable financial history. You determine which financial information is important to track (i.e. Revenue, EBITDA, Net Income, Average Stock Price, etc.)
Statistics
Track who is contacting whom, how, how often, and with what results. Statistics are updated dynamically. Touches are sorted by type and linked to the dynamic data results.
"Fly-Out" Touch View
Investment professionals love to multitask. EquityTouch lets you search, view and update company or contact information in one Touch while you create another Touch.
Simple Customization
Company and People Custom Fields
Create custom fields for your contacts, whether companies or people. You can also specify the allowed data format for each field — for example, as currency, as a decimal or whole number, as a ratio or as text.
Drag and Drop Fields On Views
Change screen layouts directly within the browser window without painful configuration settings or opening a new window.
Automatically Search Custom Fields
As soon as you create a custom field, it is automatically added to the Advanced Searching. You can search on any field as soon as it is added.
Web Service Integration
Avoid data entry and save time by importing data directly into EquityTouch from CrunchBase, Dow Jones, Bureau van Dijk (BVD), and AngelList. Search Google, LinkedIn, Twitter, Facebook and Yahoo from directly in EquityTouch!
Reports
Ready-to-run reports support the vast majority of alternative asset CRM reporting needs. Based on predesigned templates, the reports are available in Excel, Word and PDF formats. Can't find the specific report you need? Ask us to design a custom report for you.
Virtual Users and Delegates
You have the option to delegate another user to "act" as you, enabling others to enter information for you easily.
Document Management
Upload documents related to companies and/or people, enabling you to share information with other users.
Keyboard Shortcuts
Power users can execute commands faster with fewer mouse movements.