Thanks!
We appreciate your interest in Touch Ahead and our deal sourcing CRM SaaS solution EquityTouch. We'll be in touch soon!
Intelligent Relationship Management
Understanding how different people from different organizations relate to one another can be a challenge. EquityTouch tracks these complex relationships with intelligence, giving you the complete picture and showing you how everyone is connected.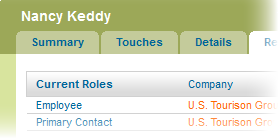 Watch Video
Integrated with Microsoft Outlook Exchange
Email, calendars, and contacts created in one application — EquityTouch or Outlook — can be quickly and securely transferred to the other. This saves time, avoids redundancy, reduces data entry and eliminates potential errors.