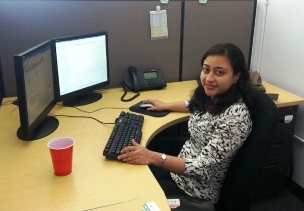 Soumya Chorappan began her interest in computer technology innocently enough, as a young girl in South India playing computer games while her older brothers were busy working. But what started out as just a hobby turned into a career. Today, Soumya is a Senior Software Engineer at Touch Ahead Software. She writes code and software programs – so in addition to speaking English and Malayalam and Hindi (two Indian languages), she speaks multiple technical languages as well.
Excluding her studies, Soumya has worked in the field of technology professionally for 5 years. Before that, she only had experience doing lab work at a university in Kerala, India, where she received a bachelor's degree in electrical and electronics engineering. She worked in India as a software engineer with Java as the main programming language before moving to the US three years ago.
An extremely fast learner, Soumya learned the .NET framework when she started working here (first at NSK, then was promoted to Touch Ahead), a feat she says was one of her biggest accomplishments since starting. Always humble, she says she couldn't have done it without the help and support from her talented coworkers. Another personal accomplishment Soumya has achieved through working at Touch Ahead was learning Perl – yet another language in the world of technology – which she had absolutely no prior knowledge of before perfecting and implementing it.
Soumya now lives in Medford, Mass., with her husband who's also from India. She says she enjoys trying different restaurants – especially Mexican, which is one of her favorite types of meals. Though she's never been to an amusement park in the US, Soumya has been to a few in India and loves them – everything except for any ride that flips you upside down and spins you around at the same time (that does sound a bit scary). As for social networking, don't look for Soumya on Twitter or Foursquare any time soon – she says she sticks to Facebook and email only to stay in touch with her family, who all currently live in India. Lucky for us, Soumya says she doesn't have any plans on moving back to India just yet and will be staying in Boston for a while.